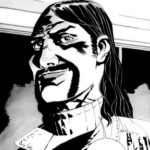 We continue this month's theme, Demons, with a look at the main types of demons as they relate to people's pasts. There are two general focuses: internal and external.
Internally focused demons are probably more familiar than you like. They usually start with you saying, "If only I had [fill in word/deed here that supposedly would've saved the day]." This is Guilt, which grows into Self Loathing. It often turns into Depression.
The second type, external, starts with you saying, "If they had/hadn't [fill in act that was necessary/unnecessary and that would've prevented the disaster that exploded later]." This is Blame, which grows into Hate. This often turns into Vengeance.