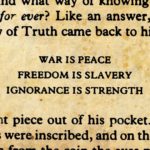 We American's celebrated our country's independence from tyranny yesterday. It's an old victory, and one that's grown to mean less and less as our elected leaders over the decades have become our masters instead of our servants.
Independence doesn't mean just freedom from a king. It's not just the ability to speak our mind and worship how we like. It's freedom from paralyzing anxiety, nagging doubt, draining fear, burning anger. It's freedom from stagnation and boxed-in thinking. This isn't an exhaustive list, either.
Today we see what villains teach us about power and independence.