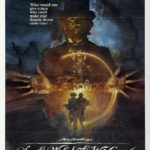 What's your deepest desire? Would you trade your soul for it?
When Cooger & Dark's Pandemonium Shadow Show rolls into town at 3 am, its mysterious leader Mr. Dark will force the locals to answer. Two 13 year olds named Will and Jim learn that getting what you want has a cost when…Something Wicked This Way Comes.
What can this tale of darkness, danger, and despair show us about succeeding in life? Let's take a walk through the carnival and see.