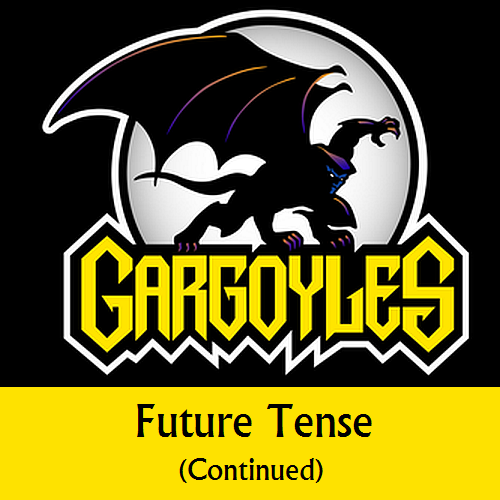 ---
After Xanatos murders his son, the rebels have one option: attack the Eyrie Pyramid directly. But the price for their resistance is high. Goliath enters virtual reality to battle Xanatos, who is not the man we know. However, it's soon apparent that Xanatos has absolute power in this realm. Is Goliath in over his head, or can he pull himself together and defeat Xanatos? Even if he does, will it save the future?
Miss last week's? Read Future Tense episode review.
Spoilers are in the 20/20 moments. Info from Ask Greg is in the According to Greg bits. 
---
The rebels decide to conduct an attack on the nerve center of the Eyrie Building: the pyramid that sits over the castle.
Broadway will use the sonar collar to knock out the Thailog shock troops. Oh, so that's what the collar does. Pretty nifty.
Demona suggests that Goliath give Angela the Phoenix Gate so that she can hide in the past. Goliath, however, says hiding is not the answer.
The group splits up with various sections attacking different parts of the Xanatos Empire. As Goliath waits with the other gargoyles to assault the pyramid itself, Lex keeps tabs on the other rebels. Bronx, Matt, and Claw are killed by a group of clone troops. Of course, Lexington can't say that, because of S&P, so he says they're "gone." We do get to watch them disappear in a burst of light though, so that's neat.
The gargoyles land on the castle's front yard. No sooner do they touch down, than Thailog shock troops appear. They have rifles, armor, and some sort of half visor things. Broadway shorts out the visors.
As the gargoyles take down the clones, Lexington is captured by more of the troops, and pulled through a secret entry in the wall.
During the battle, and despite the fact that the shock troops are disoriented by their visors shorting out, Broadway ends up getting shot. Fatally. It's one of the most emotional death scenes I've seen.
---
20/20 moment: Or at least Puck should. Again, check out the level of pathos in Puck's story! Priceless.
---
As he does, he says that he can see the sun coming, and it's beautiful. Goliath holds him as the blind garg expires. But they don't have time to mourn.
---
20/20 moment: Puck is using all these deaths to push Goliath into a corner where he will have no choice but to use the Gate.
---
Goliath, Demona, and Brooklyn troop into the Great Hall. There's a lot of computers around, but nobody live.
When they stop in the center, a beam of light hits them. Suddenly, they're in the virtual reality world. Now they have a welcome committee — of one. Namely, Xanatos in full armor. He says that not only are they in virtual reality, they're in his mind. So, his brain interfaces directly with the virtual reality on a level beyond normal.
Angela and Elisa are chained spread-eagle. I'm not sure what the plan was with them. I guess hold them as bait until everyone arrived.
Xanatos said that when he and Hudson quarreled, they were BOTH killed. Xanatos's electro sword blew up.
But, like any conscientious person, Xanatos made a backup. Except instead of shoving his files on another email account or a cloud service, he actually backed up his personality, brain patterns, and I'm assuming his memories. Wow, science has really advanced if it can tap so thoroughly into the human consciousness that it can pull memories. The possibilities with that are extraordinary.
Xanatos considers himself immortal because of this. Goliath disagrees, saying he's not even Xanatos. His reasoning? The real Xanatos would never kill his own son. I find it intriguing that Goliath deduces this. He's right, of course, but it takes a big person to give his opponent credit for, well, not being all that horrible. Goliath is likely going off David's behavior in Eye of the Beholder, where David risked his life to save Fox.
But I digress. To cut down on the number of opponents, Xanatos makes the sun rise. I'm sure the 1990s Xanatos would love to have the sun at his command.
Demona turns into her human form.
Xanatos remarks that Puck's spell of transformation still works in cyberspace. When did he find out about this? I guess it must have been later on, after the history that we've seen so far.
The other gargoyles turn to stone. After he blasts them — excluding Goliath — he kills Demona. But not before she tells stone!Goliath that this is a battle of wills, and he can control the virtual world too.
Well, that should be the end of it, right?
No.
Only one left is Goliath. But through sheer force of will, Goliath wakes up. Not out of stone, but enough to control his body movements. He tries to attack Xanatos, but the X program turns into a giant spinning top that has spikes on the side. It's like a drill. No, I'm not making this up.
He buzzes Goliath down to just a head, which he takes out of the air and uses as a prop while quoting, or misquoting, Shakespeare. "Alas poor Goliath, I knew him well."
When Goliath says that Xanatos won't get away with this, or a paraphrase of that idea, Xanatos delivers an equally poetic line: "What are you going to do, bite my kneecaps off?" If you're not aware, that's from Monty Python.
G's will is strong. He causes the dust particles of his body to come together. They squish the Xanatos program's avatar. This kills the program and starts to destroy the virtual world. I'm not sure why this would work. This is Xanatos's world, so why can't he just say that nothing can destroy him? Surely there are backup files, right?
Goliath and Elisa zap back into the real world. They are the only survivors. What do they find waiting for them, but Lexington in a hoverchair. It's pretty neat. He says he's been using the Xanatos program as a front while he takes control. This empire is really his. Soon, he will upload his program onto every computer on the web. Wow, Lexington went full dark side. I wonder why? Just because Goliath left?
---
20/20 moment: I wonder what Puck sees in Lexington that would prompt him to cast Lex as the villain? Is it just Lexington's tech savvy? Or is there more? Owen has lived the longest of any human with the gargoyles. Rather, any human in this century. Yes, Elisa hangs with them, but she doesn't spend the entire day and night with them. Owen, however, had the opportunity not only to interact with them every day, but also to monitor their behavior via CCTV. So he probably has the best understanding of them.

It would be interesting if Owen / Puck found out something that he could blackmail one of the gargoyles with. Maybe something minor, kind of like an embarrassing picture of them at the Christmas party. (Geek points if you get that reference.)
---
Goliath doesn't take this betrayal too well. He tosses Lex into the computer screens. Welp, I guess even Goliath reaches the end of his rope. This somehow causes the complete meltdown of the pyramid.
Goliath and Elisa flee the giant fireball that was once the Eyrie Building's top. But the falling masonry knocks a hole through Goliath's swing. He tumbles to the ground.
Elisa picks herself up. There's only one hope, the Phoenix Gate. She wants Goliath to give it to her. He's too weak, so he lets it fall on the ground from his pouch.
But she insists that he hand it to her. Even though she can pick it up an inch away. Must be always suspicious, because this makes him totally forget the fact that he's fallen a good distance and has a giant rip in his wing. And then all his friends and family are dead.
He tells her to just pick it up, since her hands ain't broke. Ok, not the last part but. When she continues to insist, he hops up. He knows that she is not Elisa. Darn, he is a suspicious git! He's still thinking this clearly after losing all his friends and family, falling a good distance, and now staring down certain death. Impressive.
Well, that's the end of it. The illusion, I mean. It all becomes part of Puck — sucked into him. Now that is interesting! We haven't seen him for ages. Not since the mirror.
You know, it's kind of gutsy to use a character that you haven't shown the audience recently. In fact, I think it was mostly an entire season ago. But Titania did mention him. Like, in the last episode. So it's fair game.
Puck caused this illusion so that he can get the Phoenix Gate. Why? So he can use it to bribe Oberon. All right, but why? Puck doesn't want to go back to Avalon. It's really boring there, and it's really not boring in the mortal world. I guess it would be like going to your relatives' for Thanksgiving, but having it go on indefinitely. For, like, millennia. If that is in fact how it is, I would also try and bribe Oberon to get out of it.
But before he leaves, Puck taunts Goliath a final time. Was the vision only a dream? Or was it a prophecy?
Goliath wakes up in the bottom of the skiff. He passed out and fell overboard. Angela and Elisa don't know a thing about his dream. And, he doesn't tell them.
But he does see that there's danger in keeping the Phoenix Gate. So he opens the Gate fireball with the magic incantation. Explaining that the Gate is too dangerous, he throws it into the fireball. Now with no will to guide the Gate, it will basically be lost at sea in the time stream. Or so he thinks. We know that the spin-off Time Dancer comes from this.
---
Final Thoughts
I've always wondered what Xanatos would think of this vision. I think it would be dangerous for Puck to show it to him; it might give him ideas. I think he'd be rather amused, and maybe in some parts offended. He would never kill his son, but then again the computer program lacked his restraint. The computer system is more like Coyote, which is where Puck must have gotten the idea. But at present, Coyote is not in the mood to take over anything. Of course, that will change in the future, according to Greg.
What's really interesting about this episode is that we get a picture of Xanatos's grown son before we even see him as a baby. Basically they introduce the character as he may become, and as he will probably look. That's a fascinating way to get us attached to a character that might otherwise be a little bit difficult to identify with, considering he's a baby.
---
20/20 moment: I don't know about you, but I actually really like Alex. He's one of my favorite characters, even though he's not even a year old. Plus, it's fun to watch David and Alex interact. The big, bad Xanatos, who makes his opponents' lives so difficult when he feels like it, actually is a fantastic father.
---
Puck is one of my favorite characters. And for good reason. He's a trickster who is incredibly intelligent, and has some of the best lines in the series. Here we get to see him in action. I suggest you watch this episode again, strictly focusing on the fact that this is Puck's dream for Goliath. All the information that Puck says is from what he knows. And one must wonder how he knows what he does?
---
20/20 moment: Until the Gathering, you don't know that Puck is Owen. So, as a viewer, you should be wondering how Puck knows all these details about the Gargoyles. Now, I started watching the show at the first episode of The Gathering, so I never really had that wonderful feeling of discovery when Owen became Puck. Yes, I had it slightly when he transformed in the second episode of The Gathering, but since it was only the second episode of the series that I had watched, I had no idea who anyone was or even why Xanatos and the gargoyles were at odds. So needless to say, his transformation was somewhat lost on me. I had no idea if this was supposed to be news or not.
---
So, how will this Puck and Oberon issue resolve? Tune in next week to find out. And to meet Alex for the first time. It's a family reunion when we review The Gathering. And just like any family reunion, there's going to be trouble. Big trouble.
Thoughts? Comment!
---
Related Articles: