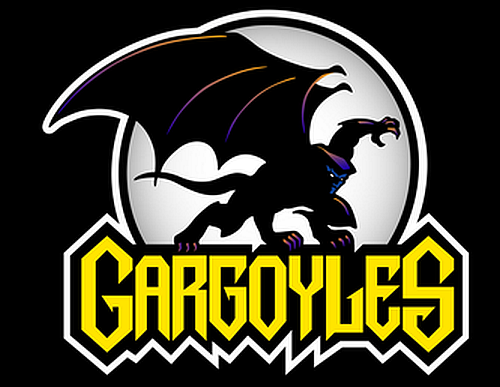 We are defenders of the night. We are gargoyles!
---
While the Disney's Gargoyles series may be complete, it lives on in fan art. Don't worry, I did the research for you, hunting down some of the best villain/antagonist fan art from Gargoyles. Sadly, there isn't nearly as much art featuring our favorite baddies as there is of the heroes. What else is new, eh?
This castle-load of antagonists should help tide you over until October, when we start our Gargoyles episode reviews. Of course their focus will be the villains and antagonists!
As usual, DeviantArt is my go-to. Check out the artists' pages and fave their work; they deserve it! If you found other great villain/antagonist works from the fans or Gargoyles, share them in the comments!
---
Demona has the most artistic fans.

Demona 2006 by dreamie on DeviantArt
---
Landscape view suits Demona.

DEMONA by EricCanete on DeviantArt
---
Apparently only House Xanatos is a fan of the Puck?

Annoying Demona by Horus-Goddess on DeviantArt
---
Demona always has loved her weapons!

Demona by brainleakage on DeviantArt
---
I'm surprised they didn't title this Alone, the password she used in City of Stone.

Demona by saniika on DeviantArt
---
Fantastic details. The artist really conveys her conflicted emotions.

Demona by suthnmeh on DeviantArt
---
The chip off (all) the old block(s). Thailog!

Thailog_gargoyle by VictoriaDAEDRA on DeviantArt
---
Xanatos's "monster" is far more than a genetic copy of Goliath.

Gargoyles-Thailog by BlackPicasso1989 on DeviantArt
---
Do you even know how difficult it is to find high-quality Xanatos fan art? He looks a decade or so younger here than the series. I like it.

Gargoyles – David Xanatos (RL) by AutumnEves on DeviantArt
---
Fox, bringing the storm.

Gargoyles – Fox (RL) by AutumnEves on DeviantArt
---
Puck has some tribal ink going on. Been hanging around Coyote and Raven?

Puck by roxcola on DeviantArt
---
This looks like a something you'd find engraved in a castle wall.

Puck – FA by oneoftwo on DeviantArt
---
They all look so young! Gotta love how Xanatos is at the center of it all, just like he's the reason the Gargoyles clan is around in the first place.

Gargoyles by Radiant-Grey on DeviantArt
---
Look at Jackal! This is an excellent re design.

The Pack from tv show Gargoyles redesigned by Peinamek on DeviantArt
---
Oberon. He's over 9000! DBZ lives on.

Oberon Does Not Compromise… by GarthTheUndying on DeviantArt
---
Well, you do have a mullet with dog ears, Jackal.

Gargoyles – Ma'am by sallychan on DeviantArt
---
Which pic is your favorite? Do you have Gargoyles villain/antagonist art of your own? Let us know in the comments!
---