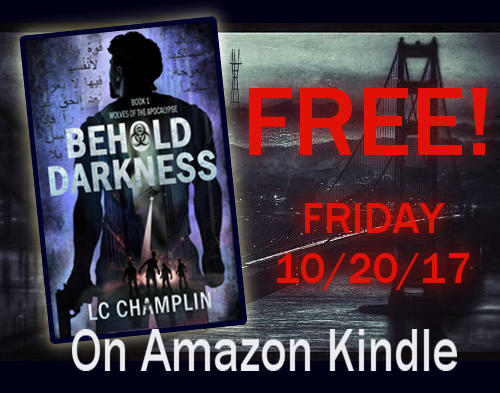 ---
~+~+~+~+~+~
FREE TODAY!
~+~+~+~+~+~
 If you like playing Resident Evil and watching The Walking Dead and 24, this Kindle book is for you: Behold Darkness, Book 1 of Wolves of the Apocalypse.
Terrorists in San Francisco unleash a plague that turns people into violent cannibals. Can two antiheroes outwit the attack's mastermind?
Action, zombies, gore, and intrigue, all for FREE. But it's only for TODAY, 10/20!
A horror/action/thriller/zombie apocalypse novel
http://smarturl.it/beholddarkness (routes to your country's Amazon page!)(If you miss out, it'll be free 11/1 and 11/15 too. So follow my author page on Facebook and Amazon, or add the book to your Amazon list for updates.)
---
Results so far: